Safety and Health Achievement Recognition Program (SHARP)
Defer OSHA Inspections and Add Your Name to the List of Maine SHARP Companies!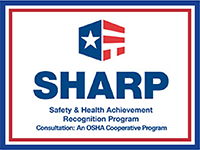 SafetyWorks!, along with OSHA, has a special program to recognize achievements in workplace safety and health by employers. The program is called SHARP, the Safety and Health Achievement Recognition Program. SHARP is for small, private, high hazard workplaces with 250 employees or less.
What Do I Get from SHARP?
Once you have completed the requirements of SHARP, your facility will be removed from OSHA's programmed inspection list. Some insurance carriers also recognize SHARP and may qualify your company for a premium reduction; check with your agent or carrier for more information.
You will also receive formal recognition from OSHA and the Maine Department of Labor. SHARP recognition is an excellent marketing tool and positive image-maker for your company and employees.
How Do I Qualify?
To apply for SHARP, your business must:
Have a no cost, comprehensive and confidential safety and health consultation survey of your workplace by SafetyWorks! consultants;
Correct all hazards identified within a reasonable time frame;
Establish and maintain the basic elements of an effective health and safety management system:

Management Leadership and Employee Participation in the development and operation of program policy, goals, objectives and activities.
Worksite Analysis to identify hazards, review injuries and identify trends.
Hazard Prevention and Control programs and procedures.
Training in Safety and Health for employees, supervisors and managers;

Commit in writing that you are willing to work with SafetyWorks! to achieve SHARP success;
Notify SafetyWorks! when major changes in processes or conditions occur that may result in new hazards;
Maintain your Lost Workday Injury/Illness Rate below the national average for industry.
Start Now!
Develop a self-sustaining health and safety management system and participate in SHARP. It's a win-win proposition. For more information, contact SafetyWorks! toll-free at 1-877-SAFE-345 (1-877-7233-345). (e-mail: general.bls-safetyworks@maine.gov)